We have piping courses designed for Beginners, Intermediate Beginners and Advanced Beginners.  Each course has defined and highly achievable goals.  Students learn using a "practice chanters", a smaller form of the "chanter", used to play the melody on bagpipes (shown in the photo above).  At the end of these three courses, students who follow our program should be able to play some simple tunes on a nearly complete set of pipes.
Novice Pipers continue their training on full sets of pipes, including the chanter and all drones (as shown in the above photo), learn a number of tunes and are taught how to play in pipe bands and other ensembles.  We are very happy to help people whose earlier plans to learn the pipes were cut short, and people who wish to qualify for membership in police and fire department or union bands.
In our three Beginning courses, and in our Novice Pipers course, students receive a good grounding in traditional Irish and in other styles of piping.  This Advanced Irish Piping course is designed for more advanced pipers who may not be familiar with traditional Irish music played on the pipes and/or who wish to increase their repertoire of Irish tunes beyond the usual simple parade tunes.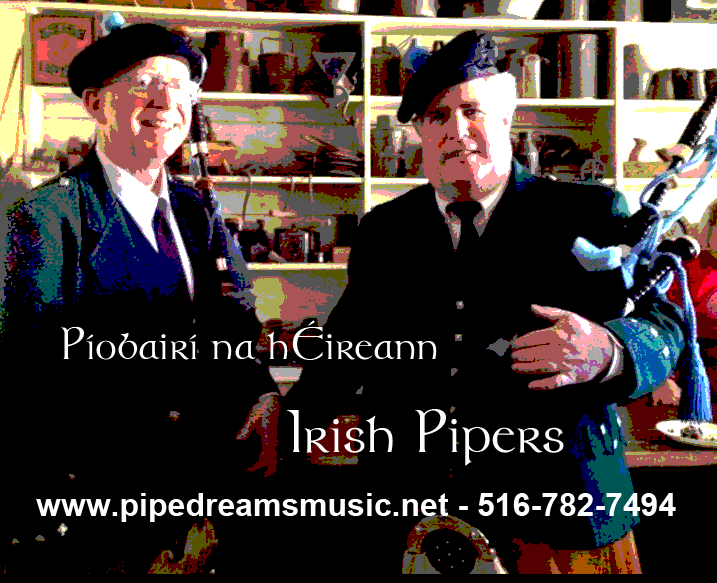 Do you need a Piper?
Pipe Dreams Music was formed and is run by highly experienced Pipers Robert P. Lynch and John Francis McManus.  We are dedicated to providing the highest quality piping to those who require our talents.
Our Pipers have many years musical experience, each with over 40 years experience.  Both have piped at literally thousands of weddings, funerals, and every type of event you can imagine, locally, nationally and internationally.
You will always deal directly with us, not with an agent.  We accept work from reputable agents, but when you contact Pipe Dreams, you deal directly with us — the Pipers!
We speak personally with each client to plan a memorable performance for every event.
Book Pipe Dreams Music musicians with confidence!
Arrange for Lessons or for Piping Services
Contact us to arrange for lessons or to engage a piper.